Vintage Scooters severed as an iconic status symbol for Indian middle class, scooters first hit the road during world warII. Indian vintage scooters started their non-stop run from 1948 when bajaj auto-imported Vespa form Italy.
But the manufacturing of scooters in India started when Automobile Products of India trigger the assembling of scooters and mopeds from 1955. This created a tremendous path for Indian scooter market. All along the early half of the '60s, three companies namely, Pearl Scooters Ltd (1962), SZUL Gwalior (1964) Mopeds India Ltd (1965) entered the mopeds field.
All the above companies made a decent remark on making scooters in India. But we aim to focus on the top vintage scooters in India.
Let us throw some insights on top vintage scooters in India
BAJAJ CHETAK: (1972-2005)
Among some legendary horses remembered from the past, especially chetak the horse of RANA PRATAP SINGH is sparkingly memorable.
The reason why Bajaj Chetak tops the list of Indian vintage scooters because it has a remarkable impression in almost all Indian families. In addition, Bajaj Chetak is considered as a symbol of economic status of the middle class in India.
At the peak, stage chetak was presented as a brides dowry. And even marriages were postponed due to delay in delivery. The demand for Scooter touching the sky. So the waiting period would be at least 1-2 years. In order to skip waiting those who can afford would go for premium or black market.
Features:
The design mostly borrowed from the Italian scooter company Piaggio. It was partially changed to appear as a CUB. The scooter initially was a 145cc, 2-stroke petrol engine and later enhanced to a 4-stroke segment at a top speed of 85 kmph.
As the Indian roads are hard to drive chetak made it easy. It is flexible to carry 3-4 passengers which is a common scenario on Indian Scooters and bikes.
Image Source: Medium
As India opened up to the world in late 90's, Chetak reached the saturation level and slowly lost its existence. In 2005 Bajaj Chetak production has been called off. But Indians never forget
Yeh Zameen, Yeh Aasman………….. Humara Kal, Humara aaj….. Buland Bhaarat ki Buland Tasveer……. Humara Bajaj!!!
.
" History never  forgets the real heroes and the Chetak will be never erased in the books of India automobile industry."
LAMBRETTA:
Lambretta is a brand name of motor scooter manufacturing company  Innocenti in Milan, Italy. Lambretta is the word acquired from a mythical water- sprite affiliated with the river which runs adjacent to the production site.
API LAMBRETTA:
Lambretta is an ideal name in the international market and is a vintage brand. API(Automobile parts of India) was the first Indian scooter manufacturer. Initially, scooters were assembled from Innocenti kits and sold under the name of Lambretta. And here the Lambretta Started its run on Indian roads in the 1960s.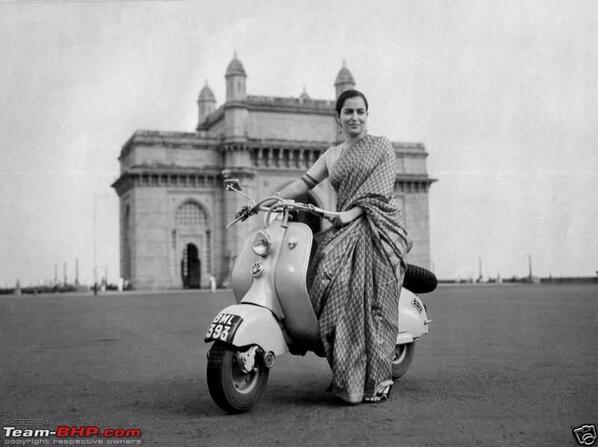 Image source: Twimg
In 1972, the state-bond venture Scooters India Ltd took over the Lambretta manufacturing and trademark rights. And therefore it launched the Vijai Super in India which was exported as GP150 to the international markets.
API grabbed the license to build the Li150 Series 2 model which was sold under the name of Lambretta in India and was later renamed to Lamby in 1976. It was powered by a 148cc 2-stroke engine that could gear up to 80 km/h.
Though there is an exchange of several names, they were backed by the unique brand name LAMBRETTA. So Lambretta has a decent place in Indian vintage scooter history.